Fully funded PhD positions in vision and touch: perception and rendering of different materials.
We invite applications from enthusiastic and capable students who would like to pursue a PhD in visual or visual-haptic perception or rendering. We have eleven generously funded PhD positions open in nine different labs across Europe, supported by a Marie Skłodowska-Curie Action – Innovative Training Network (MSCA-ITN/ETN). We invite applications from enthusiastic and capable students who would like to pursue a PhD in visual or visual-haptic perception or rendering.
The positions are designed to encourage intersectoral and international collaboration and secondments. Each PhD position requires a move from another country. For example, to take a PhD position in Germany, you must not have lived in Germany for more than 12 months in the last 3 years. Applications from all over the world are welcome. Please see attached flyer and DyViTo website for more details.
The researcher based in Bilkent will focus on developing and testing advanced fMRI techniques, e.g. high-temporal and spatial resolution imaging, and applying these techniques to investigate nueronal activity during visual perception. Particularly we are interested in characterizing connectivity patterns and temporal dynamics in visual cortex underlying contextual influences using fMRI, behavioral experiments and computational modeling.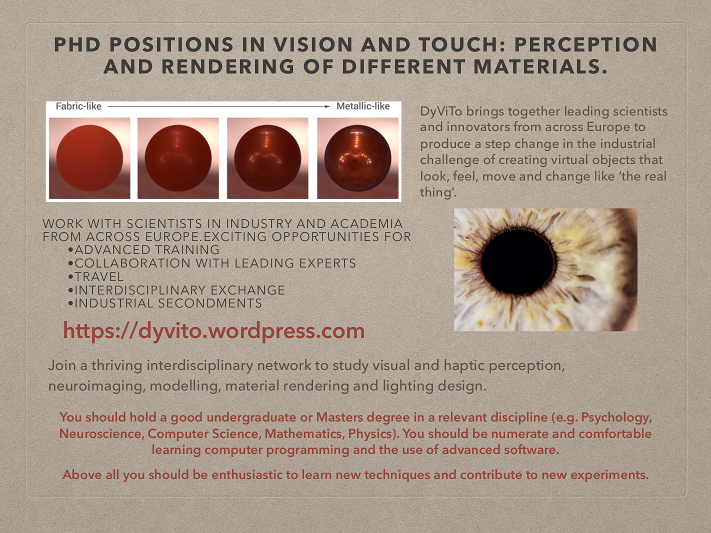 Open-Rank Positions at the Department of Psychology, Bilkent University
Bilkent University invites tenure-track faculty applications (rank open) in the Department of Psychology. The university's strategic plan includes an expansion of the psychology department. Accordingly, we seek applications from promising or established scholars in systems neuroscience, cognitive neuroscience, developmental neuroscience, and related fields.
Bilkent was recently ranked #28 in the world by the Times Higher Education among universities under 50 years old. The language of instruction is English. The Department and the Interdisciplinary Graduate Program in Neuroscience offer Master's and PhD programs. For 5 consecutive years, each newly admitted Psychology major has scored in the top 5% or higher on the national university entrance exam. The Department has newly renovated research laboratories, as well as access to the university's state-of-the-art facilities, which include a 3 Tesla MR scanner, animal research center, and EEG equipment.
Bilkent is located in Ankara, Turkey's metropolitan capital with daily direct flights to Istanbul and other major European cities. Bilkent University also provides faculty members and their families with free housing and access to private health insurance.
Qualifications and Responsibilities: Applicants should have a PhD in psychology or related discipline, and should have an excellent publication record (requirements vary with rank). A demonstrated ability or the potential to secure external research funding will be a strong advantage. Faculty members are expected to maintain productive research programs. Successful applicants will teach 2 courses per semester (no teaching requirement during summer, and possibility of reduced teaching in the first year of appointment), and supervise PhD, Master's, and senior thesis students.
Appointment: This full-time appointment will begin in September 2018. Salary will be internationally competitive and commensurate with qualifications and experience.
Application Procedure
Applicants should submit
1) a cover letter;
2) CV;
3) research statement;
4) teaching statement;
5) pdf copies of best publications; and
6) contact information for 3-5 professional references.
Review of applications will commence on January 10, 2018 and continue until the positions (two) are filled. To apply please go to the following link: https://stars.bilkent.edu.tr/staffapp/PSYC2017
For informal inquiries please contact psyc-at-bilkent.edu.tr. For more information regarding the Psychology Department and Bilkent University, please visit the following websites:
psy.bilkent.edu.tr
neuro.bilkent.edu.tr
feass.bilkent.edu.tr
bilkent.edu.tr
Summary
As a part of project that we have started with ASELSAN, we need a hire quality control engineer ASAP. This project is currently planned for 18 months. Hopefully, it will extend beyond this time based on our performance. The candidate should have an engineering degree, preferably in the mechanical  engineering but other engineering degrees will be considered. The candidates who graduated from Bilkent University, METU, and Hacettepe are preffered. One of the main tasks of the engineer will be to prepare test procedures and documentation in line with IEC guidelines.
Major Roles
Analyze and configure processes to accomplish related regulatory and technical requirements to purchase, develop and test.
Provide quality system development and auditing.
Prepare and facilitate Customer, Regulatory Agency, and ISO/IEC Audits.
Participate in Supplier Evaluation, Selection, and Certification. Provide technical support to Purchasing regarding supplier capability, quality status, inspection test methods and non-conformances.
Report periodically on critical quality metrics. Maintain documentation of the quality system and all related activities. Conduct quality audits to ensure internal compliance.
Job requirements
Minimum of BS degree in Mechanical or Electric/Electronics Engineering.
Knowledge and understanding of ISO/IEC standards and CE marking.
Knowledge of quality systems and techniques, process controls.
Understanding of Biomedical systems and familiarity with commercial product considerations, safety protocols, and typical regulations governing relations between buyer and seller.
Ability to express ideas clearly in both written and oral communications in English and Turkish.
Driven to work towards meeting project goals and deadlines.
Driven to establish and maintain effective working relationships with supervisors and co-workers.
The interested candidates, should send their resume together with a brief cover letter to ece.erdem(at)bilkent.edu.tr
A postdoctoral position is available in the National Magnetic Resonance Research Center (UMRAM) at Bilkent University (Ankara, Turkey), for researchers interested in the neural basis of visual perception and visual attention. The proposed research aims to reveal the neural mechanisms that mediate perception of complex natural scenes, and that enable humans to perform efficient visual search during natural vision. Candidates must have a doctoral degree in psychology, neuroscience, electrical engineering, computer science, physics, biology, or a related field. Applicants with experience with fMRI, solid programming skills (Matlab, Python), and/or psychophysical methods will be given preference. The position is to start immediately. The contract will initially be for 1 year, and may be renewed up to 3 years upon mutual agreement. Salary is commensurate with qualifications and experience. For all inquiries and applications please contact Dr. Tolga Cukur at This email address is being protected from spambots. You need JavaScript enabled to view it. .
The center offers world-class facilities for biomedical imaging and neuroscience research. It is equipped with a 3 Tesla Siemens Tim Trio MR scanner equipped with a 32-channel receive array, a psychophysics laboratory, a Siemens Polystar Angiography Suite, and a radiofrequency electronics laboratory. Candidates will have the opportunity to closely collaborate with the Department of Electrical and Electronics Engineering (http:/ee.bilkent.edu.tr), Department of Computer Science and Engineering (http:/cs.bilkent.edu.tr), Department of Psychology (http://www.psy.bilkent.edu.tr/), and Department of Molecular Biology and Genetics (http://www.fen.bilkent.edu.tr/~bilmbg/) at Bilkent University. Bilkent University (http://www.bilkent.edu.tr/) is a private research university with more than 10,000 students and over 1000 faculty, 4 professional and 6 graduate schools. Candidates will have access to the all research and educational resources on campus, including libraries and computer laboratories. For further information about the center see: http://www.umram.bilkent.edu.tr/.
Job Description :
Candidate should have experience with power electronics and demonstrate well-rounded analytical skills. The candidate will also be exposed to mixed-signal design environments. This highly self-motivated engineer should be able to take on multiple development tasks of variable duration. These tasks include: switch mode amplifier design and analog/ mixed-signal design. The engineer should be able to conceive, analyze and optimize a broad variety of power electronics, cutting-edge analog and mixed-signal circuits related to RF. Initial work will be to develop switch mode amplifier and contribute to signal processing platforms. We are looking for people who will thrive doing a wide variety of hands-on lab work in the electrical and RF domains.
Requirements :
- Experience in the design of switching mode power amplifiers.
- Solid Circuit simulation skills (LTSPICE, PSPICE, etc.) and the use of MATLAB.
- Discrete component and board level analog and mixed-signals design.
- Resolution of EMC problems and advanced debugging skills.
- Excellent written and verbal skills.
All candidates should have :
Minimum Bachelors degree in electrical/electronics engineering from a reputable university.
Excellent knowledge of English & MS Office.
No military obligation for male applicants.

To Apply: Please send your CV and a personel statement to the below given e-mail addresses.
aydan(at)ee(dot)bilkent(dot)edu(dot)tr, umut.gundogdu(at)bilkent(dot)edu(dot)tr
Bilkent University is seeking faculty members at all levels and postdoctoral fellows in order to fill available positions at the National Magnetic Resonance Research Center (UMRAM), Ankara, Turkey.
UMRAM has been established in May 2009 at Bilkent University with the support of the Turkish Ministry of Development. The mission of UMRAM is to promote, facilitate and conduct research on magnetic resonance imaging. The facilities include a 3 tesla Siemens MR scanner equipped with an 8-channel transmit array and a Polystar angiography machine, which are solely dedicated to research. Additionally, UMRAM has animal research, electronics and psychophysics laboratories. UMRAM brings together an interdisciplinary group of investigators to develop and utilize the technology of magnetic resonance imaging. Currently, the center consists of three research groups: Biomedical Engineering, Neuroradiology Research and Cognitive Neuroscience.
Through recent funding from the Turkish Ministry of Development, a second MR scanner is about to be purchased and several new faculty and postdoctoral fellow positions will become available. Possible research areas of the candidates include, but are not limited to, interventional MRI, transmit array technology, neuroradiology and neuroscience. Candidates applying for faculty positions are expected to conduct research on magnetic resonance imaging, to supervise graduate students and to secure extramural funding.
For more information, please visit the website: http://umram.bilkent.edu.tr . To apply, please send your contact information, curriculum vitae and a statement of research to Ergin Atalar, This email address is being protected from spambots. You need JavaScript enabled to view it. . Inquiries can be directed to Dr. Atalar via e-mail or land-line phone +90 312 290 3272 or cell-phone +90 533 730 0735. Applications will remain open until the positions are filled. Salary is negotiable and commensurate with qualifications and experience.